latest news
MEDIA RELEASE : A Mother's Day for everyone
19/04/10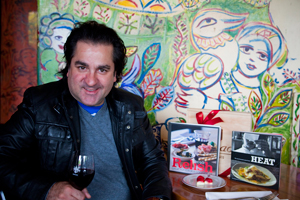 What do you get if you mix together some cooking tips from renowned chefs, a lot of goodwill and stir in a pinch of
community spirit? Great food for good causes.
This Mother's Day you can grab mum two recipe books for a special deal of $35 and feel good in the process.
All proceeds from The Relish and HEAT recipe books go to a range of charities and the HEAT hospitality training program, all working to improve the lives of people in need, both locally and overseas.
Purchase both books before Monday, 3 May to be in the running to win a special Mother's Day treat. You could be the favourite child as up for grabs is a three course lunch at Mirka at Tolarno's Hotel for four people, designed by Guy Grossi, a beautiful bouquet and a box of Cacao's award winning chocolates.
Relish is an initiative of the Rotary Club of St Kilda and shares recipes from local restaurants and cafes operating in St Kilda, Prahran, South Melbourne, Malvern and Elwood areas.
The HEAT (Hospitality Employment and Training) cookbook features recipes and cooking tips from well known chefs such as Guy Grossi as well as heartfelt stories from young people whose lives have been changed forever by participating in
training programs.
The books can be bought from the HEAT and Relish websites.
www.heat.org.au or www.relishrecipes.com.au
Further information/photos:
Julia Topliss
Rotary Club of St Kilda
Ph: 0411 364 004
Email: pr@stkildarotary.org.au
Relish 2010 will be supported by the Rotary Clubs of Melbourne South, Malvern and Prahran and Balwyn.
Rotary Club of St Kilda Inc. is proud to announce that Relish 2010 will be supported by the Rotary Clubs of Melbourne South, Malvern, Prahran and Balwyn.
Each of these clubs will contribute at least 15 recipes from their areas, broadening Relish's influences beyond the St Kilda borders. In this exciting move, Relish promises to become more influential with a broader market and wider distribution.
Each club will be selling their own copies of Relish and raising money for their own charities.
At this stage the nominated charities are:
St Kilda - Sacred Heart Mission & PolioPlus
Melbourne South - Reclink & Water Wells Project
Malvern - Very Special Kids
Prahran - Prahran Mission & Inclusion Melbourne
Balwyn - FareShare
Relish 2009 Interim Report
Download our interim report to see how our project is suceeding and to see how our participating restaurants and sponsors benefit from being involved.

download




Tastes of St Kilda Recipe Competition

If you have ever fancied yourself a bit of a whiz in the kitchen here is your chance to prove it. Enter the Tastes of St Kilda Recipe Competition and be one of five lucky winners. FIVE categories are available .

Each winner will receive:
• Food experience package with renowned culinary food
trainer, Glenn Flood
• Raw Materials Spanish Hamper to take home
• Your recipe published in Relish 2010

One Major Prize:
ONE major prize will be announced for the Tastes of St Kilda 'Recipe of the Year', the winner of this prize will receive a luxury Prince Hotel Spa & Circa Dinner package which includes:
• Overnight accommodation in the Premium Suite
• Continental breakfast served at Circa
• Three course dinner at Circa
• 1.5 hour Aurora Retreat

Enter Now
Relish 2009 Launch

The Relish 2009 book launch was a fantastic success. The Rotary Club of St Kilda sold over 200 books on the night, and collected over $5000 from door entry, raffle and book sales. This is a great beginning for our fundraising activities for this project.

A big thank you to our launch sponsors, Red Scooter for making it such a magnificent event - it ran so smoothly and made the evening stress free for all Rotary club members.

Launched by Father Ernie Smith, founder of the Sacred Heart Mission.
Cooking with the spice of St Kilda

David Carruthers, owner of the Dog's Bar in St Kilda, flips through his newest recipe book, Relish, produced by the Rotary Club of St Kilda. The cookbook, a compilation of recipes contributed by local restaurants and chefs, is dedicated to Donlevy Fitzpatrick, who created the Dog's Bar in the late 1980s and resorted The George Cinema. Relish will be released at the end of the month and can be purchased at participating restaurants and markets for $14.95. Proceeds will be donated tro the Sacred Heart Mission and Shelterbox.

Article printed in Emerald Hill Weekly 22.10.08
Relish Book Launch Tickets on eBay
Relish Book Launch Tickets have been listed on Ebay as a charity auction.
The launch is for the 11th November 2008 between 6.30pm and 9.30pm. The tickets are for 2 people to attend this inaugural event, which is set to be a fun evening including:
- great food and drink
- live music
- Kraft's Billionth Jar on display
- Show bags to takeaway
So if you are interested in mingling with local restaurateurs and other St Kilda identities then these tickets are for you. The auction expires on this Wednesday evening. Simply visit www.ebay.com.au and search for 'Relish Tickets'.
All proceeds from the auction go towards the nominated Relish charities.
Relish Pilot Documentry
The Relish team have been exploring the feasibility of producing a small documentary pilot initially designed for DVD/YouTube, with the view of then presenting it to SBS or ABC for a TV doco.
We are currently looking for local people who might be interested in participating with this project, please contact us if you are interested.